Our Beginnings
Our story began in 1976 with Phua Yong Pin, a skilled upholsterer, who started Hwa Tat Lee with his two brothers in Singapore.
We started by making PVC sofas for the Singapore market. The founders turned their attention overseas after gaining success locally. They forged a manufacturing partnership with one of the oldest manufacturers of leather sofas in Germany, Laauser GmbH, where they acquired technical expertise for production and product development. We ended the decade with the commencement of our first overseas manufacturing operation in Kulai, Malaysia.
We subsequently gained foothold in Hong Kong, Australia and Japan, our first international markets.
Building Global Markets
We entered China with our first sofa manufacturing plant at Kunshan. During the same year, we set up our upholstery leather tanning operations in Singapore, creating a vertically integrated supply chain.
We started our first domestic wholesale and distribution operations in Japan.
Europe was our goal. We developed an order system to provide localised and timely response to our customers as far as over 5,000 miles away.
Creating New Worlds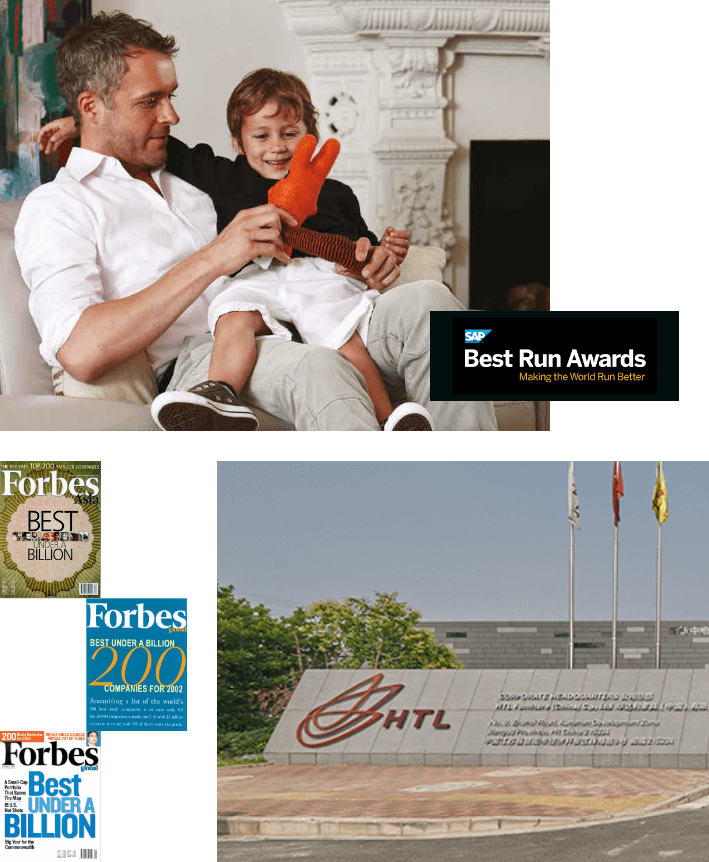 Hwa Tat Lee was renamed HTL International Holdings Ltd. Endorsed by our customers for our design, quality and service, we unveiled a new corporate identity, reflecting our inspiration to soar.
Forbes Global recognised HTL as one of the world's "200 Best Small Companies" for three consecutive years, while HTL Group Managing Director Phua Yong Tat was conferred "Businessman of the Year" award by Singapore Business Awards. Acquired German home furnishing brand, Domicil. Expanded our capability and product offering with the acquisition of the Terasoh and Corium Italia.
Early adopters and successful implementation of SAP in the furniture industry for manufacturing excellence.
New Horizons
Expanded our capability and product offering with the acquisition of the Terasoh and Corium Italia.
Transforming HTL as a global innovator in lifestyle concept establishing new concepts for retail expansion in China and Singapore.
Capitalizing on manufacturing expertise, branding excellence and value creation strategies to enrich our business depth and enlarge our market scale. HTL is shaping our new horizons to grow from being the world's largest leather upholstery specialist, to become the world's largest sofa company.